Sound Healing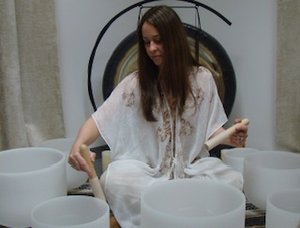 The sound waves produced by the instruments help to bring our brain waves to a meditative and calm state. The tones and frequencies produced by the instruments activate our relaxation response. Studies show this can help to lower blood pressure, decreases muscle tension, decrease anxiety, improve sleep, and balance emotions.
Reiki
Reiki is a Japanese technique that safely and gently helps to promote relaxation and stress relief. Universal energy is transferred from the practitioner's palms to the recipient. Reiki helps to clear and elevate our energy and to bring balance to the body, mind, and spirit.
What can I expect during my first session?
First time clients will fill out a brief intake form. We will then discuss your session and any questions you may have. You will then slip your shoes off and lie or sit comfortably for your session. Cell phones must be silenced with vibration turned off so as not to interfere with your session.
What do I wear?
It is recommended to wear loose comfortable clothing. Layers are best as you can easily adjust if you begin to feel cool or warm during your session.
Do I need to bring anything to my session?
You will be provided with a pillow, blanket, bolster and eye pillow. You are welcome to bring anything that will further increase your comfort such as a specialized pillow. You may lie down or sit on the treatment table for the session. If you prefer to lie directly on the floor please bring a mat. You are welcome to bring any small items such as crystals with you that you would like to be cleared or charged by the instruments. You will be provided a basket for your belongings.
When should I NOT have a sound healing session?
Sound healing sessions are not advised for individuals with sound induced epilepsy, sound sensitivity or seizures. It is not advised for pregnant individuals as a gong is used in sessions. If you are experiencing symptoms of covid, flu, or a cold please stay home and reschedule. After surgery it is advised to wait two months. If you are experiencing severe mental illness please consult with your doctor before scheduling. Always consult with your medical professional if you are unsure.
Can children receive sound healing?
Minors under the age of 18 must be accompanied by an adult. Sessions are not done for children under the age of 14.

---
Please contact Michele Cavaliere at 551-208-3062 to learn more.