---
Cellulite Reduction Therapy - Body Contour Treatment to Reduce the Appearance of Cellulite
What is Cellulite?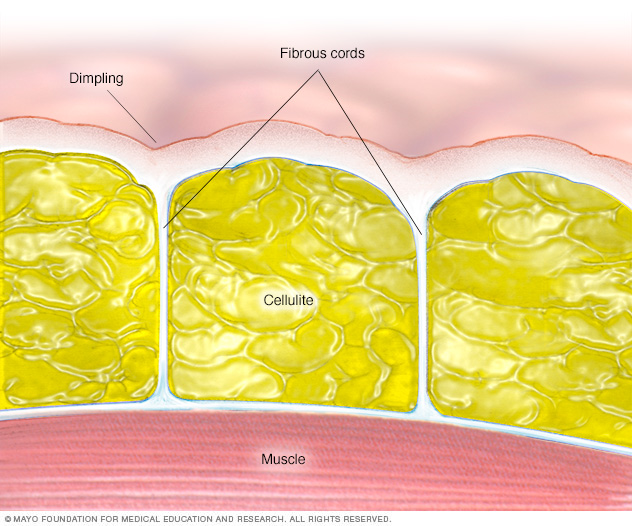 Cellulite involves fibrous connective cords that tether the skin to the underlying muscle, with fat cells and stagnant fluids lying between. As fat cells and stagnation accumulate, they push up against the skin, while the long, tough cords pull down. This creates an uneven surface or dimpling. It is most common around the thighs and buttocks, but it can be found on the breasts, lower abdomen and upper arms as well.
Weight gain and solid bloat can make cellulite more noticeable, but some lean people have cellulite as well. It tends to run in families, so genetics might play the biggest role in whether you develop cellulite. An inactive lifestyle also can increase your chances of having cellulite, as can pregnancy.
---
Cellulite Reduction Therapy is a gentle, noninvasive therapy that reduces solid bloat and the appearance of cellulite. The vacuum needed is carefully regulated by a medicupping machine creating a unique negative-pressure therapy.
The treatment begins with a light pumping to drain fluids from the area, followed by deeper applications to break down adhesions that cause the "orange peel" texture. This will increase blood flow and facilitate penetration of therapeutic oils massaged into the treatment areas. A warm body wrap completes the service.
With consistent sessions, cellulite will be less noticeable and adhesions will soften. The muscles of the treatment areas will also benefit from the reduction of tension and tightness, and the release of stagnation. For best results, the full package of eight treatments is recommended.
All forms for this treatment are available on the medical forms page and in our office. Please drink plenty of water the day of your session.
---
Consultation/Exam (30 minutes), No Fee
Cellulite Reduction Therapy:
Session (60 minutes), $250 $129 for a limited time*
First session in a series of eight (8).
Package (8 sessions), $1,200
For best results schedule your sessions
twice a week for four consecutive weeks.
Maintenance Session (60 minutes), $99
Available after the initial eight (8) sessions.
*If you are using a voucher to schedule your session, please include the voucher number and expiration date in the note to the therapist. Vouchers are also available in our office.
---